Smoke alarms in Class 1a buildings
The information below relates to smoke alarms in Class 1a buildings only – as defined by the National Construction Code (NCC).
Class 1a buildings are a single dwelling being:
a detached house, or
one or more dwellings each being a building, separated by a fire-resistant wall, including a row house, terrace house, town house or villa.
Smoke alarms save lives and they are regulated in all states through the NCC for all new houses and alterations and additions to existing homes.
Most fatal fires occur at night when people are asleep. What happens in a fire is that the house fills with toxic smoke long before heat and flame spreads and it is this smoke that numbs the senses and further leaves the occupants more soundly asleep. Smoke alarms therefore give a first warning and provide that extra time to escape.
Installation and connection of smoke alarms
The NCC requires that smoke alarms:
be located in Class 1a buildings in accordance with clause 3.7.2.3
comply with AS 3786 Smoke alarms,
be connected to the consumer mains power where consumer power is supplied to the building, and
be interconnected where there is more than one alarm.
Smoke alarms should be installed on or near the ceiling with special care being taken to avoid dead air spaces. A dead air space is an area in which trapped hot air will prevent smoke from reaching the alarm. This space generally occurs at the apex of cathedral ceilings, the corner junction of walls and ceilings, between exposed floor joists, etc.
If it is impractical to mount the smoke alarm on the ceiling then it may be located on the wall. The recommended position is between 300mm and 500mm off the ceiling. The distance from the apex of a cathedral ceiling to the top of the alarm should be between 500mm and 1500mm.
Where should smoke alarms be placed?
When deciding on the position of smoke alarms it is important to remember that they are intended to detect smoke before it reaches the sleeping occupants of a building. The ensuing alarm is designed to wake the occupants and give them time to evacuate the building. The NCC provisions require that a smoke alarm be located 'between each area containing bedrooms and the remainder of the dwelling'.
Smoke alarms on other storeys
Smoke alarms are required to be installed in a Class 1a building on or near the ceiling in:
any storey containing bedrooms:
any other storey not containing bedrooms.
The favoured location for this 'other alarm' if required is generally in the path of travel people will most likely take to evacuate the building. This will ensure an alarm will be raised before smoke makes the common exit path impassable – e.g. if the bedrooms are on the first floor, then an alarm should be positioned near the area of the interconnecting stair at ground level. If the other storey is not connected to the remainder of the building (for instance, a ground floor garage) then the alarm should be centrally located in the lower area.
However, it may be reasonable, using a performance approach, not to install smoke alarms where the storey is predominantly open, such as the basement level of a highset house on stumps that is used for carparking or laundry purposes. Subject to acceptance of the Performance Solution by the relevant building certifier/surveyor.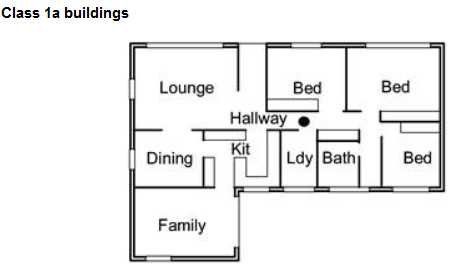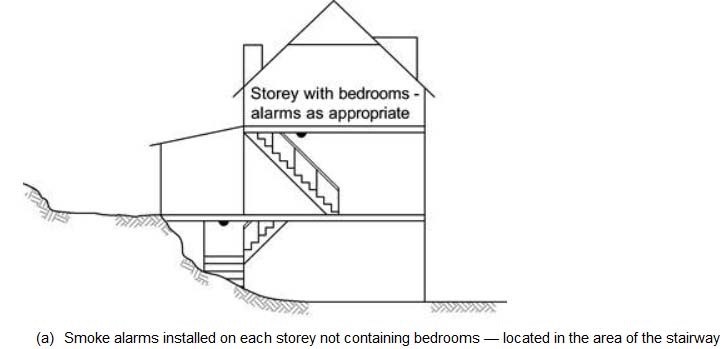 Is there any flexibility when deciding where to place a detector?
The NCC Performance Requirements give flexibility when considering the location of smoke alarms. For instance, in Class 1a buildings if the Deemed-to-Satisfy Provision states that the smoke alarm should be located in the hallway, and there is a bathroom adjacent this location (that will potentially cause nuisance alarms) the building certifier/surveyor could accept the alarm being installed in the bedroom as a suitable option using the performance clause.
This approach should also be adopted when considering sleep-outs or similar type residential buildings that are not connected to the remainder of the building by a hallway or other enclosed structure. In these situations the alarm could be located in the room itself.
Interconnection of smoke alarms
The 2014 edition of the NCC introduced a new requirement that smoke alarms be interconnected to provide a common alarm system. This means that if one alarm in the dwelling activates then other alarms automatically activate, which will increase the likelihood of sleeping occupants becoming aware of the detection of smoke.
Where the construction work involved is an alteration or additions to the main dwelling, it is recommended that any existing smoke alarms be interconnected if a new smoke alarms is required for the addition. It is recommended that you speak with your electrician about the interconnection requirement before starting work to ensure that this can be done in the most practical way possible.
How does a smoke alarm work?
There are two types of smoke alarms:
Photoelectric: This type of smoke alarm uses a light source and photocell. As the smoke enters the detection chamber it interferes with the light beam which, in turn, causes the alarm to sound.
Ionisation: A small amount of radioactive material is used to create an electrical current that travels through ionised air. When smoke enters the detection chamber it impedes the flow of current and causes the alarm to sound.
Nuisance alarms
Smoke alarms are extremely sensitive and may detect smoke and moisture created by common household activities (such as burnt toast or steam from a bathroom). Accordingly, to reduce the likelihood of nuisance alarms, the smoke alarm should not be located near cooking appliances and bathrooms. However, if it is necessary to locate alarms in these positions, an ionisation type alarm is more suitable near bathrooms, while a photoelectric alarm may be used near cooking appliances.
NCC 2019 changes
The smoke alarm provisions have had some minor revisions and includes a number of new figures and additional explanatory information to assist application.
This includes clarification of smoke alarm requirements where bedrooms are located in separate areas of a dwelling on that storey – this was an area of differing interpretations and larger floor plates and separate wings of houses raised this matter for clarification.
Don't forget interconnection requirements would also apply to this situation.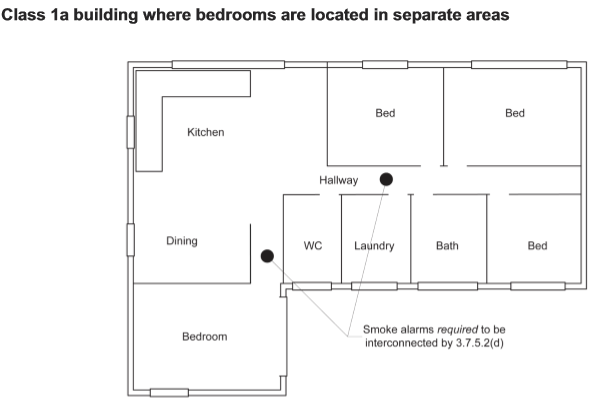 State and Territory variations
A number of state and territories have provisions that either add or vary requirements that apply on top of the NCC smoke alarm requirements, which influence the type of alarm that can be installed or may require additional alarms be installed. Therefore it is important to check with the smoke alarm requirements in your state and territory or call HIA to discuss.