A trafficable surface is anywhere where a person would normally walk to get from one place to another, being either from the street, throughout the house or from the house to another building.
This is particularly important when considering if a barrier is required adjacent to a retaining wall. The provisions only apply where the retaining wall is associated with a delineated path of access to a building from a road, or between buildings.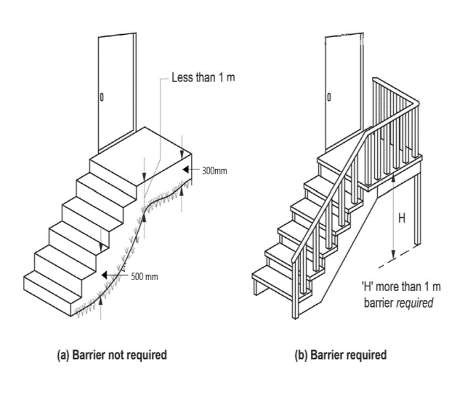 Figure 1: Barrier for retaining walls
This is not a new provision. The figure below has been added to clarify that where it is possible to fall 1m or more from a walkway or path leading from the street to the house, garage to a house, etc., that is supported by a retaining wall, a barrier is required to be provided.
It does not apply to a retaining wall used for landscaping or terracing in the backyard. The clause states that:
The requirements do not apply to:
a retaining wall unless the retaining wall forms part of, or is directly associated with, a delineated path of access to a building from the road, or a delineated path of access between buildings (see Figure 3.9.2.2).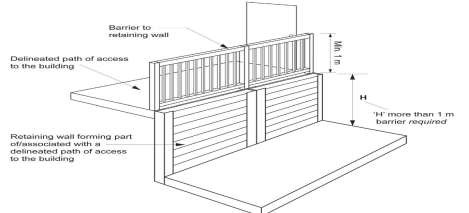 Figure 3.4.2.2